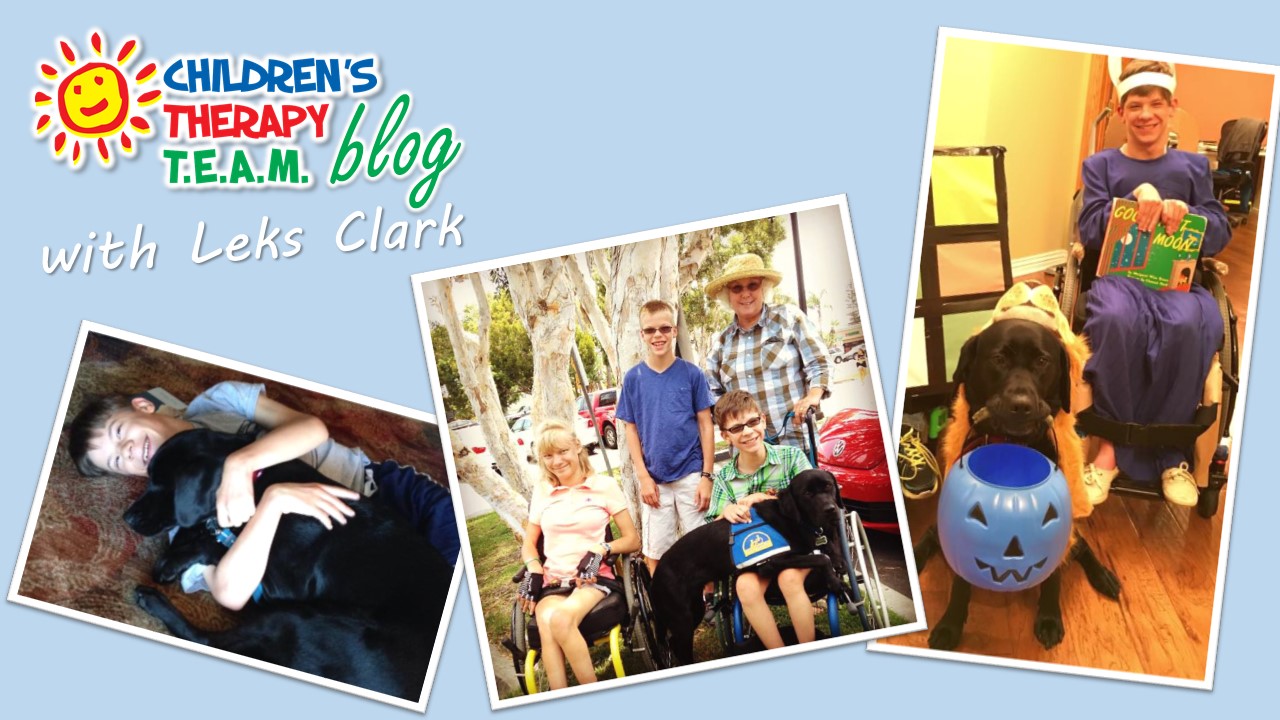 Everyone loves a good story about a boy who loves his dog, right? So, today I share an interview with a 15 year old young man, named Leks, who has a service dog named Megan. Megan is truly a working dog. She not only works with Leks, but she also works here at Children's Therapy TEAM during the day with the clients at the clinic. Last week, I interviewed Lek's mom, Amanda Clark, as part of our three part series on service animals and now it's Lek's turn to share.
So, on to the sweet story…
Melissa:
How long have you had Megan?
Leks:
I have had her around 3 or 4 years.
Melissa:
Tell me how you got Megan.
Leks:
We rode on a plane to California to attend 2 weeks worth of training [at the
Canine Companions for Independence
Training Center]. Before we even got there, the puppy raiser, Chris, had already taught Megan many commands. The first thing I did with Megan [when matched with her on day 3 or 4 of the training] was work on bonding. I laid on the bed the first night and cuddled with her. I loved knowing that this was my dog to take home. I was ready for this change. I was so happy. I told her that I was ready to take her home. Then we worked with Sarah and Seamus (the dog trainers). They taught me and Mom and Dad how to work with Megan. There were several other families there at the same time, learning to work with their new dogs, too.
Melissa:
What jobs does Megan do for you?
Leks:
She can pick up stuff that is dropped, opens doors by grabbing the door handles with her mouth, and open the pantry door. She has a command to close doors too.
Melissa:
Does Megan go into public places with you?
Leks:
Yes. She likes to go to my grandma's house, the clinic, and she goes to doctor's appointments with me in Kansas.
Melissa:
Who helps you take care of Megan?
Leks:
I can't have Megan by myself until I am 18 years old. So she has to stay with my Mom and Dad and me for now.
Melissa:
Does she have to work all of the time, or does she have play time, too?
Leks:
She has both work and play time.
Melissa:
What do you like to do with Megan during her play time?
Leks:
We take her to the dog park and play with her. I like to sit on the couch or lay on the bed with her. I like to love on her.
Leks and Megan are truly a great pair! I have many families ask me for more information on service dogs, comfort companions, and how to obtain service animals for their own children. If you are interested in obtaining a service animal or comfort companion (the two ARE different) for your family, please find more information in my resource list.
As a reminder:
Service animal – provides a particular action/service for an individual with a disability and is protected by the Americans with Disabilities Act (ADA)
Comfort companion – provides comfort and support (rather than a particular action) and is NOT covered by the ADA
Resource List
(accessed in July 2016)
Canine Companions for Independence
, the agency Lek's family went through to pair Leks with Megan
Amanda Clark: My Family's Journey with a Service Dog
, Service Animal Blog Series Part 2, Children's Therapy TEAM Blog, August 2016
Animal Assistance and Therapy
, Children's Therapy TEAM Resource Library
United States Department of Justice Civil Rights Division,
Americans with Disabilities Act
Service Animals and The Americans with Disabilities Act
, Service Animal Blog Series Part 1, Children's Therapy TEAM Blog, August 2016
Service Animals and Emotional Support Animals
, ADA National Network
Frequently Asked Questions about Service Animals and the ADA
, U.S. Department of Justice, Civil Rights Division, Disability Rights Section
About the Author: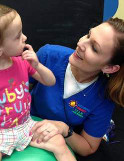 Melissa Foster
is the leading contributor to
Children's Therapy TEAM's Weekly Blog
. She is a Pediatric Occupational Therapist with over a decade of experience in the field. An active public advocate in the NWA community, Melissa addresses topics related to Autism, Sensory Processing Disorder and general health and child development.