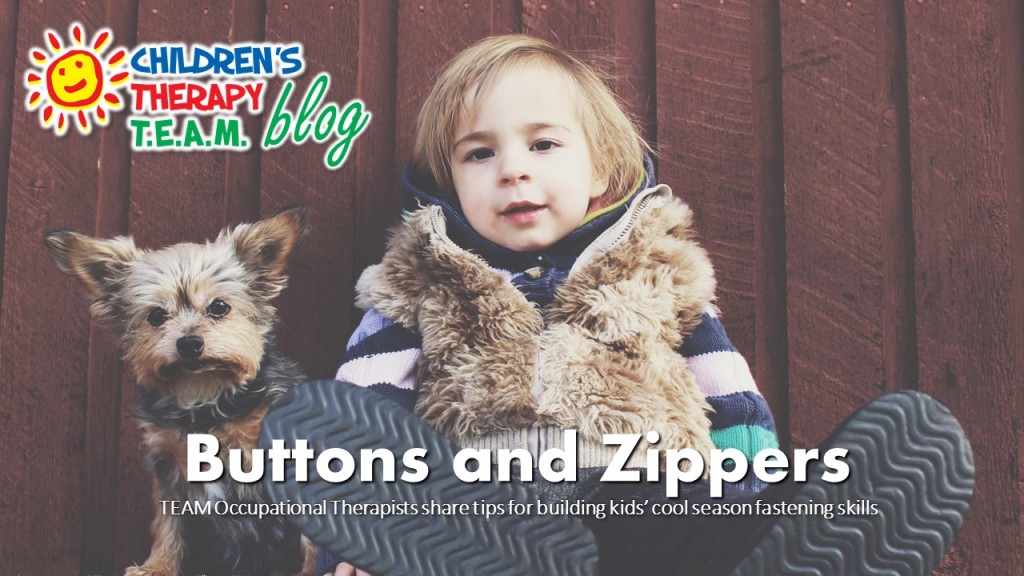 Dear Melissa,
Now that colder temperatures are hitting, I am noticing that my 7 year old son has great difficulty buttoning and zipping his coat. Do you have any suggestions?
It's easy to forget about dressing skills in the carefree days of summer. Pull on comfy shorts, t-shirts, flip flops… All easy-peasy. But it seems that every year, as the layers begin to pile on, we are suddenly hit with, "Oh yeah… I forgot that Johnny can't fasten his jeans, zip up his hoodie, tie his shoes, or button his coat." Well, never fear, OT's can help with all of these things!
I am an OT/mama who tends to focus on easy on/off clothes for my clients and my own kiddos. For fastening buttons and zippers I'm turning to my fellow Children's Therapy TEAM OT's Allison Schmitz and Cody Stoops for some fun ways on how to improve your child's buttoning/zipping skills.
First, start with splinter skills of bilateral fine motor coordination. These skills can be improved with many fun and crafty activities such as stringing beads, lacing boards, cutting with scissors, etc.
Strength is important, too! Most fasteners require strength AND dexterity. Coloring, sidewalk chalk, clothespins, Play-Doh, Theraputty, tongs… All of these activities will help your child gain finger strength, which ultimately will make these fasteners easier.
Practice, practice, practice. Many fun OT/mama/crafty sites have loads of buttoning/zipping activities. Generally, these tasks start with large buttons, which are at tabletop level so that the child can be successful at this level before moving on to trickier buttons on the coat or jeans. Some examples of these include:
Practice unbuttoning first Unbuttoning is much easier than buttoning. Unbuttoning is basically pulling the fabric apart, with a twist!
Buttoning food
This involves large buttons attached to a felt base piece, and then top pieces having button holes in order to create various "snacks." Excellent ideas for these crafts include making cookies, pizzas, or sandwiches. Directions for how to make your own "button sandwich" can be found
here
.
Buttoning/zipping dolls
Many young children like to play with dolls or stuffed animals, and there are a wide variety of dolls and animals available that have fasteners attached. Therefore, it wouldn't really be "practice" but "play." Find an example for these dolls
here
.
Buttoning boards/vests
No-frills. Simple. Classic. An example of these can be found
here
.
Make your own button strip
Simply sew a large button to the end of a ribbon. Then take pieces of felt with a button-hole-sized slits cut in them, and "string" these pieces of felt onto the button ribbon string. Have I not explained myself very well? Find the directions for this task
here
.
Find sturdy fasteners I am NOT one who likes to spend a lot of money on kids' clothing. They are kids! They should run, jump, play, get dirty, and NOT worry about their clothes getting ruined. I am all for some cheap Walmart, or Target clothes. However, I have noticed that in years past, when I have opted for the cheaper heavy coat, the zipper tends to wear out well before winter is over. Therefore, no matter where you choose to buy your child's coat, test out the zipper a few times yourself to make sure that it is good and sturdy, and will not "catch." If the zipper is nice and smooth for you, it has a much better chance of being smooth for your kiddo.
Go big or go home We all know that it can be a bit tough to button our pants after Thanksgiving dinner! Same for our kiddos. Buy pants or coats a bit on the loose side to allow your kiddo a bit more room for finger dexterity.
Know when to step in It is perfectly OK to step in and help sometimes. Ladies, don't we try to get help with our back zippers when we can? Therefore, it is perfectly fine to insist that your child make at least a valiant effort on certain items of clothing, but go ahead and step in when you know that those overall buttons are a bit snug and tricky.