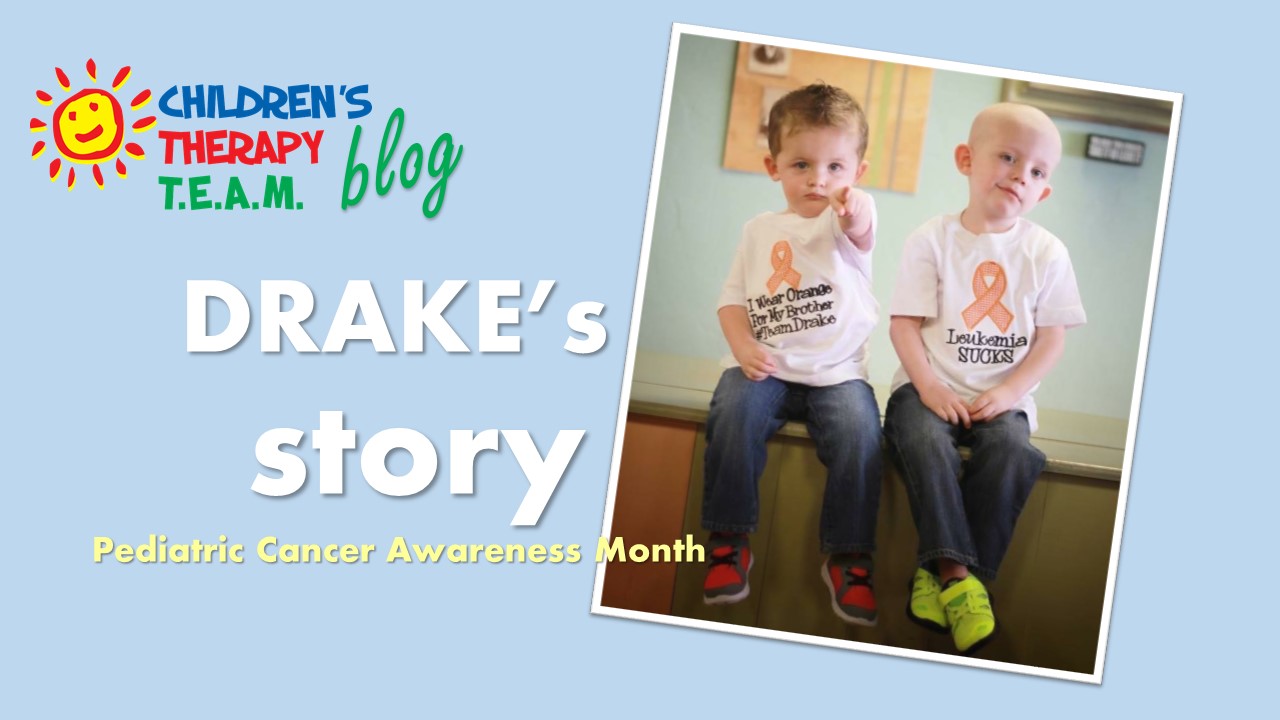 September is Pediatric Cancer Awareness Month.
In the United States in 2016, an estimated 10,380 new cases of cancer will be diagnosed among children from birth to 14 years, and about 1,250 children are expected to die from the disease. Although pediatric cancer death rates have declined by nearly 70 percent over the past four decades, cancer remains the leading cause of death from disease among children. This week, TEAM parent, Megan Rutledge, shares her son

Drake

's story.
Megan:

Drake

was diagnosed with leukemia at age 3 on June 20, 2014. This diagnosis came only 17 days after he was diagnosed with autism. He had been sick for a month, if not a little longer. It was nothing too alarming; he just didn't feel well. We took him to his pediatrician numerous times, as well as the ER. Nobody saw anything other than normal sick kid stuff. He had an ear infection or a cough, nothing major. The developmental doctor who diagnosed him earlier in June had requested that labs be taken to test for any vitamin deficiencies. The order was sent, and we were told we could do it at any time.

June 20

, Aaron and I were both off of work. We were tempted to go to Silver Dollar City that day but instead decided to go ahead and have the lab work done and then spend the day at grandma's pool. Within an hour or so of leaving the Schmeiding Center and having blood drawn, I received a call from our pediatrician's office. I was told that the blood work had come back already and that

Drake

needed to be seen at Arkansas Children's Hospital due to some concern with a POSSIBLE cancerous infection. Being that it was a Friday afternoon and not knowing that he was sick, I naively asked if that meant early next week or what? She told me that no, he needs to go NOW and as long as he was stable, he could be transported by car, and that we needed to pack for several days. Stable? He was about to jump into the pool… Of course he was stable. I'm sure a lot more was said during that conversation, but I could not for the life of me tell you what it was. I blanked out and only heard bits and pieces of it. We got packed and met Aaron's parents to drop our youngest off with them. We headed straight to the ER with grandma, grandpa, and brother following shortly after.
The ER was waiting on us. We waited in the waiting room MAYBE 3 minutes. More blood work was done, and we were eventually given the leukemia diagnosis late that night. We were moved to the pediatric intensive care unit for the first night.

Drake

's blood counts were so low that they were surprised he was still able to function normally. The first several nights were very rough for everyone, but especially

Drake

. He had spiked temps of 104+ and was having allergic reactions to the medications. Type testing and plans were not made until

Monday

morning when we learned that given our situation,

Drake

had the best type of leukemia to have. He was diagnosed with Acute Lymphoblastic Leukemia, type B. While in the hospital, he had a surgery to place his Port-A-Cath, and it was discussed that after he was well enough, he would have surgery to place a G-Button (he refused to take ANY medication by mouth). We were finally released 7 days post-diagnosis.
Drake

's treatment plan is a total of 10 years. The first 6 months was very intensive, but now that he's on maintenance, it is much better. He is seen once a month in Little Rock and has blood draws every week at Highlands in Rogers. August 2017 will be his last dose of chemo, and then he will been seen once a year until the 10 years.
What a powerful story. Can you tell me what friends and family did that was helpful for you during that time?
Megan:

We had an absolute outpour of help from not only our friends and family, but from the community as well. Before

Drake

was even released from his initial hospital stay, there had been fundraisers set up, our house had been cleaned, and we had numerous offers to mow our yard. Mowing the yard was something that a ton of people offered to help with. We, at the time, did not need it done, but it was definitely something that you don't think about having to do.
Aaron and I were both off of work for several weeks after

Drake

came home, just to make sure that we were all accustomed to our new normal. A meal train was set up where friends and family signed up to bring us a meal everyday for a certain number of days. That was incredibly helpful.
The biggest blessing for us though, was working for a department (we both work for the sheriff's office) that was so understanding and willing to help. We did not have to worry about anything work-related. We are so appreciative of our work family and the sacrifices they have made in order to help us.
Money, of course is going to be one of the largest burdens on someone going through a situation like ours. The hospital is amazing at helping, and every child is automatically matched with a social worker to help during hardships (gas money, paying bills, etc.). For the first 6 months of

Drake

's treatment, he was seen once a week at Arkansas Children's Hospital in Little Rock. Because his appointments were very early in the morning, we stayed in a hotel every

Wednesday

night and had clinic

on Thursday

. Without the help of others, we would not have made it. Even though

Drake

was not staying in the hospital, our friends and family realized that it was still very expensive making that trip every week.
Was there anything people did that was NOT helpful?
Megan:

In the very beginning… it was talking about it. We knew that people would have questions, but we didn't even know the extent of what our new life was going to be like.
Another thing was visitors…

Drake

could not be around visitors for quite some time. His counts were too low to go into public or be around a lot of people. During the first several months home, he didn't leave other than going to the hospital and the only people that came into our house were family members and therapists who had already received their flu shots.
What tips you would give to other families dealing with pediatric cancer, on how to manage doctors appointments, side effects, other illnesses, school, friends, siblings, etc.?
Megan:

Just like every other stressful situation, you are your child's advocate. If you don't understand or like something, be their voice. The side effects of chemo SUCK. There is no way around that. There is nothing to prepare a parent for the sleepless nights, the constant vomiting, or the change in appearance. I personally did not want to see

Drake

's hair fall out, so we chose to cut it as soon as he came home from the hospital. School is a whole new bag of worms now. There are restrictions and special forms and meetings that have to be had.
How is

Drake

doing now?
Megan:

He is doing AWESOME. He has doubled in weight since being diagnosed and truly looks like a normal, healthy boy. Looking at

Drake

, you would not know that he has leukemia. When we were going over his treatment plan during his initial hospitalization, they told us that they have NEVER seen a child NOT be admitted at some point during treatment. That was true for us.

Drake

was admitted in December 2015 for about 4 days. He developed cellulitis and his counts bottomed out. Once they got his counts back up, he was good to go. We have not (knock on wood) had any ER trips or hospitalizations since then. He started Kindergarten in August and is doing great.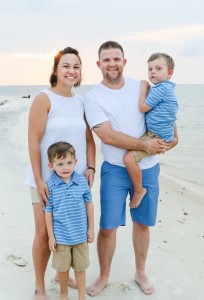 A couple of months ago,

Drake

was having HORRIBLE issues with PICA. He was putting any and everything into his mouth. We talked to his OT. She hadn't had much experience with it, but it didn't stop her from helping. She talked to any and everyone that she could and suggested a handful of different things. I believe that she had even talked to you about it, Melissa! We did end up having his iron levels checked (big ordeal with what the chemo does to his levels and having to do additional tests), and we also had him seen by a behavioral doctor. With the help of his OT, other therapists, his pediatrician, and his oncology team, we have not had any issues with PICA in quite some time. It just goes to show that his therapists don't stop caring once his treatment hour is up.
It definitely hasn't been JUST cancer with us or JUST the need for therapies. Therapy has helped

Drake

during our issues with cancer.